[jmd-134] ʺSilent Adultery Tripʺ I'm A Bad Mother, Aren't I... I'm Going To Go Fuck Your Teacher Again Mao Kurata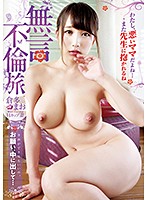 information
original title: 「無言不倫旅」 わたし、悪いママだよね…また先生に抱かれるね 倉多まお
category: japanese porn movie / AV
studio: MOMOTARO, Inc. - 桃太郎映像出版
distributor: Ûman - う〜まん
release date: December 07, 2018
duration:
DVD product code: jmd-134
DMM content id: jmd134
DMM physical product code: jmd134so
DMM / R18 digital product code: jmd00134
director: DUKE
trailer / sample
female cast
male cast
no known male cast for this movie.
photo galleries
no photo galleries for this movie.
r18 channel
You love movies from MOMOTARO, Inc. studio? Consider subscription to Momotaro R18 Channel!
Momotaro r18 channel
Real amateur girls, pornstars and fetishism.
More than 3,470 titles, ~25 updates/month
Looking for mosaic that doesn't blur out half the screen? Check out the super digital mosaic series, by long time producer Momotaro! Find real variation and popular AV content here! (Movies from Momotaro Eizô AV studio)

What is R18 Channels service?
The channel subscription is a paid service that allows you to watch all the movies within a particular channel as much as you like. R18 currently offers monthly subscriptions. Once you subscribed to a channel, there are no other fees to freely view all the content within that channel.
Please note that R18 is not a service provided by WAPdB. It is currently only available in english and chinese languages.