[saba-130] "I've Heard That Nerdy Girls In Glasses Who Go To Good Schools Are Really Secret Sexy Sluts, But Is It True?" Special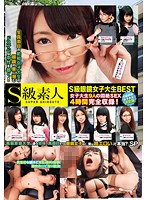 information
original title: 『高偏差値大学に通う地味で真面目そうな眼鏡女子ほど、実は超エロいって本当?』SP
category: japanese porn movie / AV
studio: S-Kyû Shirôto - S級素人
distributor: S-kyû Shirôto - S級素人
release date: January 09, 2015
duration:
DVD product code: saba-130
DMM content id: h_244saba130
DMM physical product code: h_244saba130
DMM / R18 digital product code: h_244saba00130
director: unknown
trailer / sample
female cast
no known female cast for this movie.
male cast
no known male cast for this movie.
photo galleries
no photo galleries for this movie.
r18 channel
You love movies from S-Kyû Shirôto studio? Consider subscription to KMP R18 Channel!
KMP r18 channel
The sexiest and most coveted AV stars, and fresh new beauties.
More than 8,590 titles, ~65 updates/month
The sexiest and most coveted AV stars! High-quality labels of superior erotic entertainment! The biggest stars and fresh new beauties found here at the KMP Channel!

What is R18 Channels service?
The channel subscription is a paid service that allows you to watch all the movies within a particular channel as much as you like. R18 currently offers monthly subscriptions. Once you subscribed to a channel, there are no other fees to freely view all the content within that channel.
Please note that R18 is not a service provided by WAPdB. It is currently only available in english and chinese languages.