[supa-107] [AV Recording] Super Hot Amateurs All Gathered Together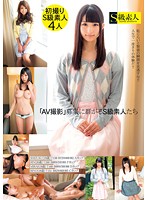 information
trailer / sample
female cast
male cast
no known male cast for this movie.
photo galleries
no photo galleries for this movie.
r18 channel
You love movies from S-Kyû Shirôto studio? Consider subscription to KMP R18 Channel!
KMP r18 channel
The sexiest and most coveted AV stars, and fresh new beauties.
More than 8,590 titles, ~65 updates/month
The sexiest and most coveted AV stars! High-quality labels of superior erotic entertainment! The biggest stars and fresh new beauties found here at the KMP Channel!

What is R18 Channels service?
The channel subscription is a paid service that allows you to watch all the movies within a particular channel as much as you like. R18 currently offers monthly subscriptions. Once you subscribed to a channel, there are no other fees to freely view all the content within that channel.
Please note that R18 is not a service provided by WAPdB. It is currently only available in english and chinese languages.