[slbb-032] A Big Sister Licks The Virgin Pussy Of Her Beloved Little Sister (Genuine Lesbian Series) ʺSis, Please Don't...ʺ Dribbling Unbelievably Massive Amounts Of Pussy Juice, This Little Sister Is Confused, But Hooked On Lesbian Action! 2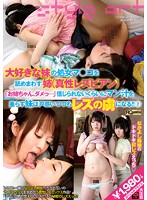 information
female cast
male cast
no known male cast for this movie.
photo galleries
no photo galleries for this movie.
r18 channel
You love movies from style art / Mousouzoku studio? Consider subscription to Mosozoku R18 Channel!
Mosozoku r18 channel
Giants tits, MILFs, Hardcore fetishes.
More than 5,900 titles, ~120 updates/month
Giant Tits, MILF and Foreign Girls! Over 80 makers producing genres like voyeur, lesbian, lolita, gangbangs and shit! When you're done with vanilla porn come here for the hardcore! (Movies from AV studio HERO and numerous labels of Mousouzoku).

What is R18 Channels service?
The channel subscription is a paid service that allows you to watch all the movies within a particular channel as much as you like. R18 currently offers monthly subscriptions. Once you subscribed to a channel, there are no other fees to freely view all the content within that channel.
Please note that R18 is not a service provided by WAPdB. It is currently only available in english and chinese languages.