Kaylani Lei
profil
également connue sous les pseudos :
Kalani
Kaylani
Keilani Lei
pornostar occidentale d'origine asiatique
carrière dans le porno : 2002 - toujours en activité
a débuté vers 21~22 ans
âge actuel : 38 ans
date de naissance :
lieu de naissance :

Singapour, Singapore, Singapore
signe astrologique : Lion
mensurations : FR 81-56-81 (US 32-22-32)
bonnet : B
taille : 150 cm (= 4'11")
poids : 45 kg (= 99 lb)
groupe sanguin : inconnu
signes distinctifs : tatouage(s), piercing(s)
liens
films sur R18 (sous le nom KAYLANI LEI)

films sur R18 (sous le nom KAYLANI LEI)
galeries photos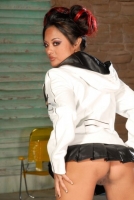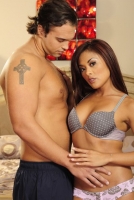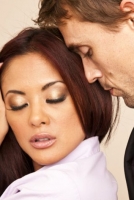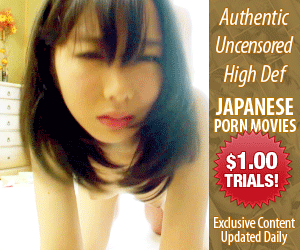 biographie
Kaylani Lei s'appelle en réalité Ashley Spalding, elle est née le 5 août 1980 à Singapour. Alors qu'elle n'est encore qu'une enfant, sa famille déménage aux États-Unis. Une fois là bas, sa famille changera souvent d'état : ils passeront en effet du Massachusetts à la Virginie, puis dans l'Ohio, avant de finalement s'installer à Las Vegas, dans le Nevada.
Hormis les déplacements de sa famille, on ne sait pas grand chose de l'enfance de Kaylani.
Dès l'âge de 18 ans, elle commence une carrière de stripteaseuse, et c'est en travaillant dans un club de Las Vegas qu'elle s'intéresse au cinéma porno.
En 2002, elle déménage à Los Angeles et commence immédiatement une carrière d'actrice porno, elle travaille pour diverses compagnies dont Vivid Entertainment.
C'est en 2003 qu'elle devient une Wicked Girl, ou en d'autres termes, une actrice sous contrat avec Wicked Pictures. Pour la petite histoire, une actrice Wicked ne s'était pas présentée sur un tournage et Kaylani s'était donc proposée pour la remplacer : les dirigeants de Wicked Pictures furent impressionnés par sa prestation et lui ont donc offert un contrat.
En dehors de sa carrière d'actrice porno, elle co-anime depuis 2007 l'émission Me so horny with Kaylani Lei avec Kitty Langdon ; elle succède donc à Mika Tan qui animait l'émission avant elle. Elle a également fait quelques apparitions dans l'émission de radio du très provocateur Howard Stern et a souvent été vue sur Playboy TV.
Durant 2005, elle décide de stopper sa carrière lorsqu'elle devient la compagne du joueur de rugby néo-zélandais Byron Kelleher, mais leur relation se termine vers juin 2006 et Kaylani revient ensuite bien vite au porno. Byron déclarera a propos d'elle dans le magazine L'Équipe « Avec elle, c'était plus qu'une histoire de cul. Pas une façon de dire aux autres : c'est moi, le mec, visez le trophée. On s'était rencontrés lors de vacances en Jamaïque. On commençait à bien s'entendre. Les gens jugent sur les apparences. Personne ne sait ce qu'elle a enduré, quelles cicatrices la vie lui a laissées pour qu'elle choisisse cette voie-là... »
Sur le plan des affaires, Kaylani a bien sûr son site officiel, auparavant accessible à l'adresse kaylanilei.com, et changé par la suite pour kaylanilei.net. Elle a également lancé sa propre gamme de sex-toys.
En 2010, elle apparait avec d'autres Wicked Girls telle qu'Alektra Blue dans un clip de la Free Speech Coalition All-Star Anti-Piracy PSA, il s'agit en fait d'un clip contre le piratage des œuvres pornographiques.

Kaylani Lei a été nominée pour bon nombre de récompenses dans le milieu du X :

2004 : AVN Award nominée, Best Oral Sex Scene in Eye of the Beholder
2004 : AVN Award nominée, Best Actress in Sweatshop
2004 : AVN Award nominée, Best Actress in Beautiful
2004 : AVN Award nominée, Best New Starlet
2007 : AVN Award nominée, Best Supporting Actress - Video for: Curse Eternal (2006)
2007 : AVN Award nominée, Best Three-Way Sex Scene for: Curse Eternal (2006) (with: Jessica Drake, Eric Masterson)
2008 : AVN Award nominée, Best Actress - Video for: Candelabra (2007)
2008 : Night Moves Adult Entertainment Award – Best Female Performer
2009 : AVN Award nominée, Best Actress in The Wicked (2009)
2009 : AVN Award nominée, Best Group Sex Scene in The Wicked (2009)
biographie par Scrappers | publiée le 26 juin 2010
envie de compléter la biographie de cette pornostar féminine ? envoyez-nous vos informations !
veuillez noter que nous restons seuls juges de la pertinence et de la véracité de ces informations et qu'elles ne seront pas systématiquement ajoutées.
filmographie
DVD / VHS / Blu-ray / autres supports physiques
en tant qu'actrice
182 films référencés pour cette pornostar féminine
webographie
scènes web / galeries web / vidéos à la demande
en tant qu'actrice
aucun contenu web référencé pour cette pornostar féminine