[scop-193] "Teacher Please!" Beautiful Mother And Daughter Treats Her Teacher On A Home Visit To Some Wet Pussy To Get A Good School Report! The Erotic Sex Of Mother And Daughter!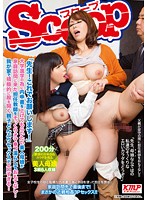 information
original title: 「先生!これでお願いします!」大学進学の為に内申書を上げてもらいたい美人母娘が家庭訪問に来た担任教師をそっくりオマ●コ濡らしておもてなし!我が家で積極的に股を開く親子どんぶりセックスがエロすぎる!
category: japanese porn movie / AV
studio: K.M.Produce - ケイ・エム・プロデュース
distributor: SCOOP - スクープ
release date: January 24, 2014
duration:
DVD product code: scop-193
DMM content id: 84scop193
DMM physical product code: 84scop193
DMM / R18 digital product code: h_565scop00193
director: Tooru KOSAKAI - 小坂井徹
trailer / sample
female cast
no known female cast for this movie.
male cast
no known male cast for this movie.
photo galleries
no photo galleries for this movie.
r18 channel
You love movies from K.M.Produce studio? Consider subscription to KMP R18 Channel!
KMP r18 channel
The sexiest and most coveted AV stars, and fresh new beauties.
More than 8,590 titles, ~65 updates/month
The sexiest and most coveted AV stars! High-quality labels of superior erotic entertainment! The biggest stars and fresh new beauties found here at the KMP Channel!

What is R18 Channels service?
The channel subscription is a paid service that allows you to watch all the movies within a particular channel as much as you like. R18 currently offers monthly subscriptions. Once you subscribed to a channel, there are no other fees to freely view all the content within that channel.
Please note that R18 is not a service provided by WAPdB. It is currently only available in english and chinese languages.